Trott praised the fitness of the team in the Chennai heat while Naveen-ul-Haq says he will remember the wins over England and Pakistan for the rest of his life
Afghanistan's victory over Pakistan in the World Cup game in Chennai is so monumental that it could inspire the next generation in the country to take up cricket, their head coach Jonathan Trott says.
"I think it just shows the amount of talent in the side for the country again, as when we were fortunate enough to beat England," Trott said at his post-match press conference. "It inspires another generation of players to pick up a cricket bat and a cricket ball, work on their fielding and their fitness. We see that the guys are very fit today and fielding for 50 overs and then Ibrahim [Zadran] batting for 35, close to 40 overs is a great, great credit to him."
Seamer Naveen-ul-Haq also toasted Afghanistan's win – their first over Pakistan in eight attempts in ODI cricket – and hoped that it would bring joy and solace to their fans back home.
"It does mean a lot to the people of our country back home," Naveen said at the mixed-zone media interaction. "As you know, the situation back home…The earthquake also hit [in Herat] a few days ago. So, there's not a lot of happiness in the country without cricket. So, at least we've given them some moments of happiness tonight."
Naveen also insisted that Afghanistan's recent wins will not impact his decision to retire from ODI cricket after the ongoing World Cup. He continues to be a key player for Afghanistan – and various franchise teams – in T20 cricket.
"No, no, no. Not at all. That's my final decision I've made," Naveen said. "Luckily, I will remember this World Cup for the rest of my life – beating Pakistan and beating England. I'm hoping for the best in the upcoming games."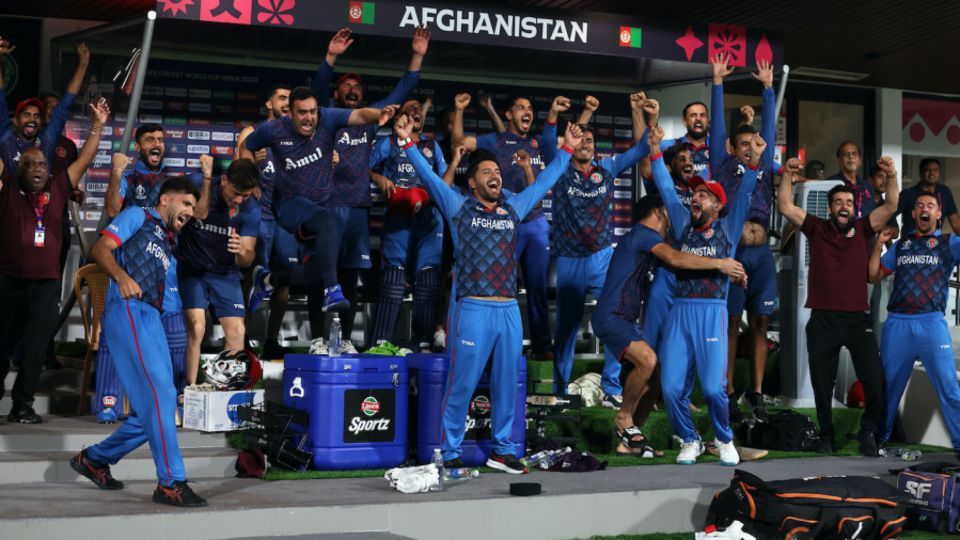 Afghanistan registered their first ODI win against Pakistan in ChennaiAfghanistan had also taken down defending champions England earlier in the tournament, but Trott urged his team to be more consistent in all disciplines if they're to chalk up more such wins in the future.
"I think it's just a message of consistency and not being scared to say, listen, we need to improve in these areas, let's make sure we do this," Trott said. "And I'm under no illusion that there are areas that need improving, like any side though. So, if we improve at those slowly, I think our all-round package improves and you'll be able to handle the pressure like we've done tonight.
"I'm looking forward. I'm already sort of thinking about plans for Sri Lanka.
"But for me as a coach, it's fantastic to be able to sit here. The players deserve a lot of the credit. It's not what I'm feeding them. It's what they're feeding themselves in practice and the way that they think about the game and the professionalism that's building. The one thing I would say … they're very fit. They're working incredibly hard at their fitness and then in the gym, they're not doing beach weights, they're doing proper fitness work and we saw that today with Rahmat [Shah] being able to field for 50 overs and then bat for the amount of time that he did in that heat, so it's a real credit to the players."