The first look of Shilpa Shetty as she enters Rohit Shetty's cop universe on OTT is out. She will be seen joining Sidharth Malhotra in Indian Police Force.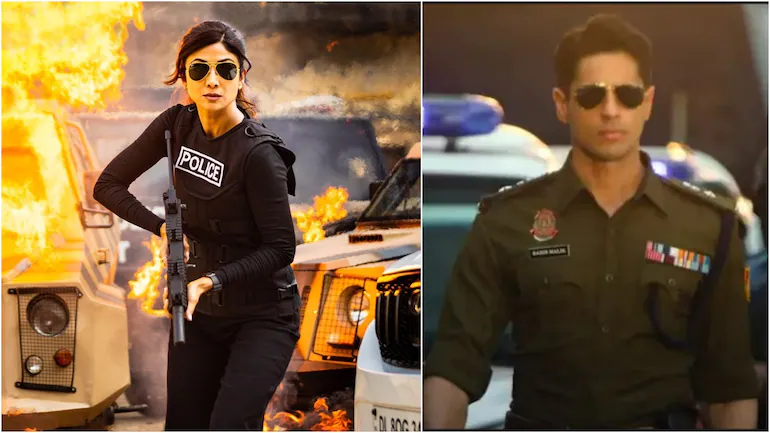 It was only recently that Rohit Shetty announced his Cop universe going digital. He shared the first look of Sidharth Malhotra and welcomed him into his squad.
Well, since then there has been a lot of excitement around this venture and now the filmmaker decided to take this excitement a notch higher with yet another
thrilling announcement. Taking to his Instagram handle he shared the first look of Shilpa Shetty who would be joining Sidharth to be a part of this Cop universe on OTT. 
In the picture that Rohit Shetty shared we can see Shilpa Shetty in all-black attire. She wore black pants, and a black top and also wore a black bulletproof vest
with Police written on it. She looked ravishing with an intense look on her face. The actress tied her hair in a single ponytail and wore black sunglasses.
Shilpa held a gun and walked ahead with cars lit on fire in the background. Sharing this picture, Rohit Shetty wrote, "WELCOME TO THE SQUAD SHILPA!
Get ready for Gun Battles, Hand to Hand Combats, High speed chases and YES! Flying Cars…INDIAN POLICE FORCE #FilmingNow." 
Take a look: 
Earlier Sidharth Malhotra took to his social media and wrote, "Rohit Shetty's cop universe goes digital tomorrow at 11am! @itsrohitshetty @rohitshettypicturez @primevideoin." 
A source close to the development had revealed that "Sid and Rohit have been discussing a probable collaboration for a while now and things have finally
fallen in place with this web show. It will take off next year and will be helmed by debutant Sushwanth Prakash. Though it's a cop-based series, the tone
and treatment is very different from what the audience have seen in the digital world."