Vaibhavi Upadhyaya Death News: Vaibhavi had also worked alongside Deepika Padukone in 'Chhapaak' film in 2020.
New Delhi: In an unfortunate turn of events, actress Vaibhavi Upadhyaya aka Jasmine of Sarabhai vs Sarabhai died in a car accident in Shimla, leaving behind her grieving family and friends. Vaibhavi Upadhyaya died in the Banjar area of Kullu district when the Mumbai number Fortuner she was travelling in with her fiance fell into a gorge. The accident occurred while negotiating a steep curve.
"Vaibhavi tried to get out of the vehicle through the window and sustained a head injury which proved fatal while the other passenger was safe," SP Kullu Sakshi Verma told PTI. The last rites of the actor, who was in her 30s, will be held in Mumbai on Wednesday, added Verma.
'Sarabhai vs Sarabhai' producer J D Majethia shared the news of Upadhyaya's demise on his Instagram Story early Wednesday morning. "Life is so unpredictable. A very fine actress, dear friend Vaibhavi Upadhyay popularly known as 'Jasmine' of Sarabhai vs Sarabhai passed away. She met with an accident in the north. Family will bring her to Mumbai tomorrow morning around 11 am for last rites. RIP Vaibhavi (sic)," reads JD Majethia's post.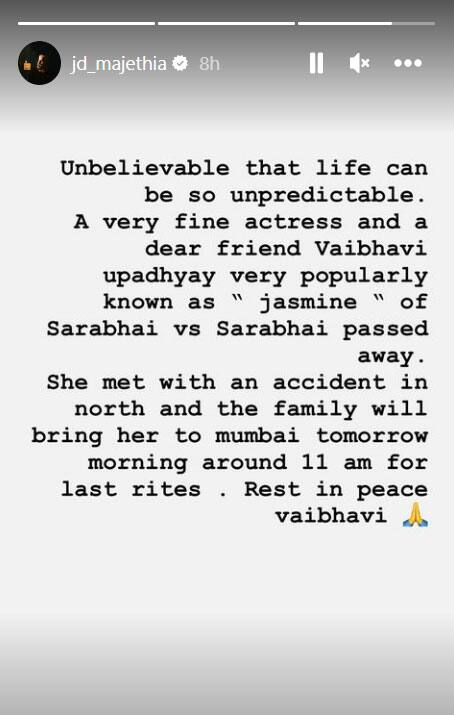 Reacting to her sudden and untimely demise news, former co-stars on the show Rupali Ganguly and Deven Bhojani also extended condolences. Rupali posted her picture and wrote in her story on Instagram: "Gone too soon Vaibhavi"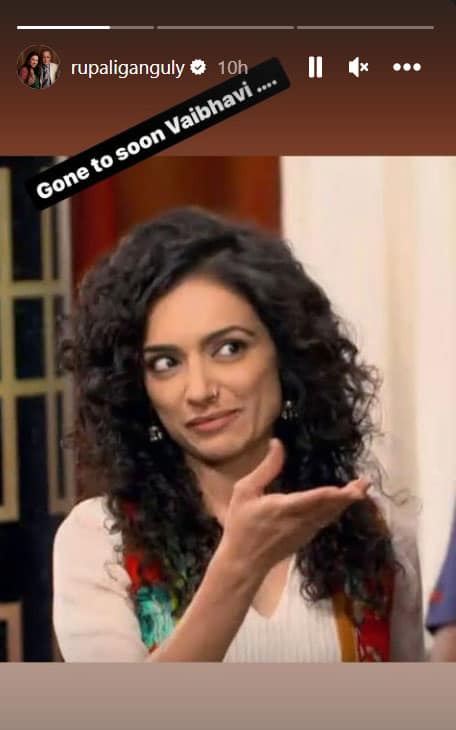 Deven Bhojani tweeted: "Shocking! A very fine actress and a dear friend Vaibhavi Upadhyay, popularly known as " Jasmine " of Sarabhai vs Sarabhai passed away. She met with an accident in north a few hours back. Rest in peace Vaibhavi"
JD Majethia also posted about her last rites and antim darshan. 
Veteran actor Satish Shah tweeted: Vaibhavi Upadhyay, aka Jasmin in our serial Sarabhai vs Sarabhai a fine actor and a colleague left for heavenly abode yday. The whole SvS team is in a shock. ओम शान्ति