Ranbir Kapoor's comeback to the big screen, Shamshera, in a sense is a tale of two worlds. The first – of trust, and betrayal, while the second is of belief, vengeance and redemption. However, it is Sanjay Dutt as the crafty, menacing and heartless Darogah Shuddh Singh, who steals the show.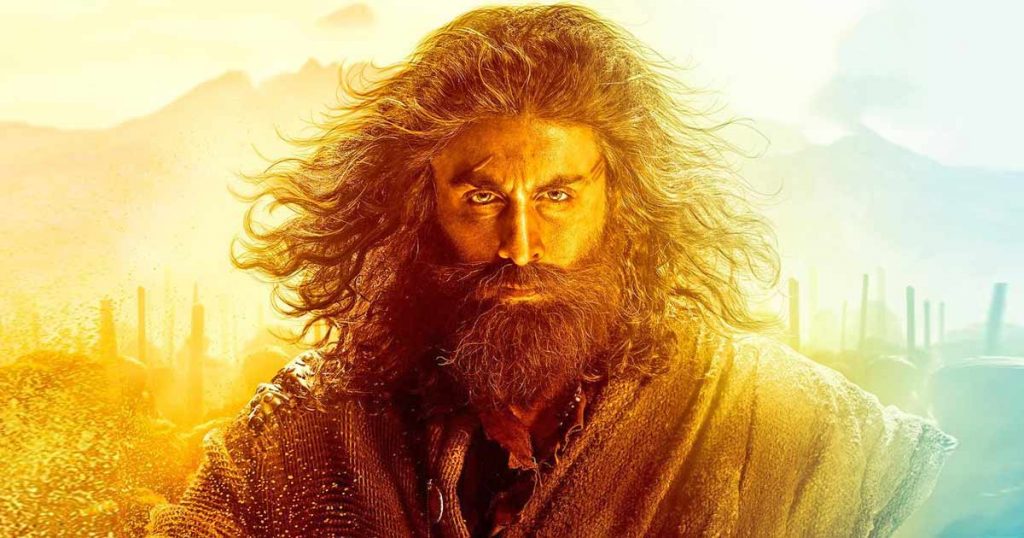 The Kapoor clan scion made a comeback to the big screen after almost a five-year hiatus with Yash Raj Films' Shamshera. Expectations were high (it IS touted to be one of the more expensive Hindi films ever made), but does YRF
, who has been delivering a string of misses – deliver? And more importantly, does the doe-eyed hero of Hindi cinema make his presence felt?
Shamshera, in a sense is a tale of two worlds. The first – of trust, and betrayal, while the second is of belief, vengeance and redemption. Set in a fictive India of the British Raj, both tales are headlined by Ranbir Kapoor
. Shamshera is the leader of a once illustrious warrior clan reduced to plundering and dacoity during the Mughal era. A terror for the upper castes, they are deceived by the British army and enslaved in an impenetrable fortress, thanks to a turncoat and evil Darogah Shuddh Singh (Sanjay Dutt
). In an attempt to find freedom for his clan, Shamshera transgresses and is killed – branded a 'bhagora' by his pregnant wife.
Cut to two decades and a half later, the bhagora's son is all grown up. Baali, a happy go lucky youth, aspires to be an officer in the same army that killed his father while still shackled to slavery. A twist of fate and some evil conniving later (oh! And romancing Vaani Kapoor
's Sona too), and Baali becomes a messiah, touted Shamshera, who, along with his band of merry men will leave no stones unturned to free his people from the hands of the Raj and the Darogah. What happens next you ask, well it is for you to find out, isn't it?
Gist aside, this humble reviewer had some trepidation regarding YRF's latest offing. Let's be honest, Aditya Chopra's production house has not been maintaining the best track record of late (Jayeshbhai Jordaar, Samrat Prithviraj to name a few). But with Shamshera they could finally have made some headway. Director Karan Malhotra has brought in a racy narrative (akin to a very popular Kannada cinema of recent times) that seems to be the flavour of the season. There is history, music, plot twists, a crown-theft and a narrative that is massy and intriguing.
And Ranbir Singh, in his foray back to the big screen, delivers. There is an ease and fluidity that Ranbir brings to his characters that was missing on the big screen in all the time that he stayed away. And it is refreshing. Be it Shamshera romancing the much-elder Iravati Harshe, or playing her son Baali a few scenes later, Ranbir takes on both mantles effortlessly. Here is an actor, who knows his craft. Vaani Kapoor, who wowed everyone with her act in Chandigarh Kare Aashiqui, could have been given a role with a bit more depth (We know she can deliver), but makes use of whatever chance she gets. Her chemistry with Ranbir is adorable, but her character lacks a definitive arc. However, if I am asked to single handedly pick an actor who steals the show, it has to be Sanjay Dutt as the crafty, menacing and heartless Darogah Shuddh Singh.
Sanjay Dutt has just matured like fine wine with age and brings about a spectacular act onscreen. The actor proves once again why he has survived in this industry for so long, at times taking away the focus from our hero, delivering a solid power-packed performance that will be remembered for years to come. Be it KGF: Chapter 2 or Shamshera, Sanjay Dutt bests being a baddie in both. Ranbir Kapoor and Sanjay Dutt prove to be the soul of this cinematic extravaganza by a mile.
Iravati Harshe, Ronit Roy, Saurabh Shukla, though pivotal to the plot development do not have much to offer.
What falters, however, are more technicalities. Could there have been a crisper editing? Yes. Could the VFX have been better? Yes. Could we have done away with a few song and dance sequence? A definitive yes. But having said all of that, this revenge drama set in the 1800s does succeed in making Ranbir Kapoor relevant once again, and gives YRF that much-needed shove in the right direction. But watch the movie for Sanjay Dutt. You will not be disappointed.