The rupee hit 80 per dollar for the first time ever on Tuesday, as traders focus on central bank meetings this week.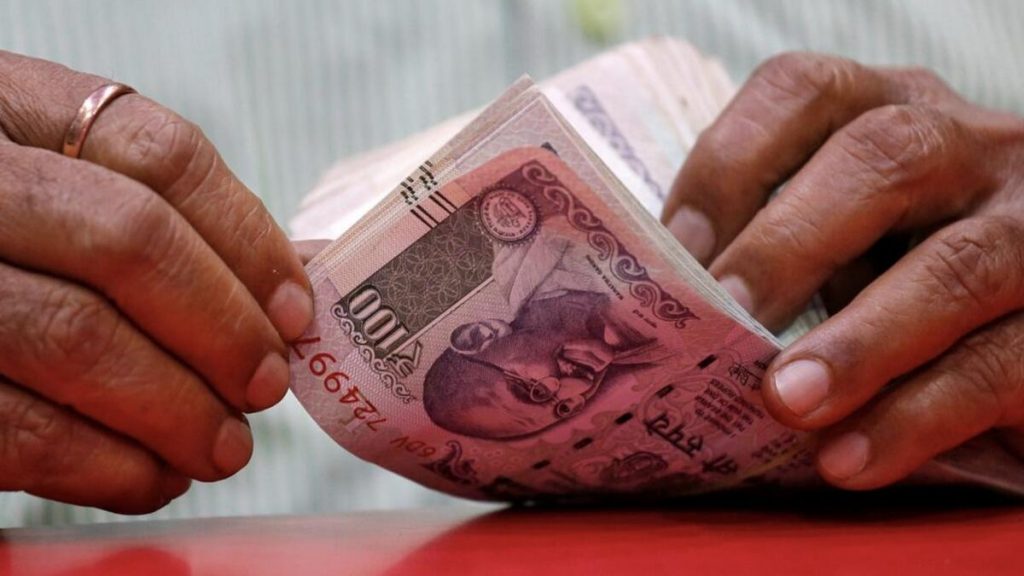 The rupee hit 80 per dollar for the first time ever on Tuesday, as traders focus on central bank meetings this week, especially the US Federal Reserve.
The real fear now is that after the rupee breached the 80-to-a-dollar level, the fall could be even steeper, as a break of key psychological rate increases bets in favour of a free fall after, as we have witnessed since the rupee weakened beyond the 77 per dollar rate.
Bloomberg quoted the rupee was last at 80.0163 against the greenback after opening at 79.9863, hitting an intra-day record low of 80.0175. PTI quoted the rupee at an all-time low of 80.05 against the US dollar in early trade, a gain of 7 paise from the previous close.
Reuters said the Indian rupee hit a seventh straight session of record lows on Tuesday as weakness in domestic shares weighed, but dollar selling intervention by the central bank helped limit further losses.
The partially convertible rupee was trading at 79.93/94 per dollar after hitting a record low of 80.05, weakening from 79.97 close on Monday, added Reuters.
PTI had reported on Monday that the rupee briefly touched an all-time low of 80 per dollar mark, but closed just below that key psychological level.
Reuters and Bloomberg reported on Monday that the partially convertible rupee slumped to a record closing low of around 79.98 against the dollar, versus Friday's close of 79.88.
Both those agencies said that the Indian currency had dropped to an intra-day low of 79.985 per dollar during the session, while PTI said the rupee had briefly hit an intra-day lifetime low of 80.
The Indian currency has plunged over 7 per cent this year, with it closing at a record low in six of the last seven sessions.
The rupee has been battered by an exodus of foreign investors, widening trade and current account deficits and driven by a global stampede into safe-haven US dollars on rising global recession risks.
Foreign fund outflows from the country this year are more than the combined inflows of the last two years, with foreign investors pulling out a record $29 billion from Indian assets this year.
On Tuesday, Indian equity indices traded lower in opening deals after rising for two consecutive sessions, taking cues from a broader sell-off in Asian markets, following an overnight slide on Wall Street.
That even as the US dollar hovered just above a one-week low reached overnight versus major peers as markets reduced the odds of a percentage-point Federal Reserve rate hike this month.
Bets for supersized easing ramped up last week after data showed US inflation, already at a four-decade high, continued to accelerate in June.
But some Federal Reserve officials were quick to throw cold water on such talk, and figures from Friday showed an easing of consumer inflation expectations to the lowest in a year.
The dollar index – which measures the greenback's performance against six counterparts – was flat at 107.47. That was off Monday's low of 106.88 but also well back from the high of 109.29 last week, a level not seen since September 2002.
"…the path of least resistance for the USD is to continue trending higher because of the poor global growth outlook," Commonwealth Bank of Australia analyst Carol Kong wrote in a client note, referring to the dollar's role as a safe haven.
Oil prices fell on Tuesday, taking a breather after surging more than $5 a barrel in the previous session as a plunging dollar supported buying interest.
Brent crude futures for September settlement fell 69 cents to $105.58 a barrel. The contract rose 5.1 per cent on Monday, the biggest percentage gain since April 12.
Oil markets have been whipsawed between concerns about supply as Western sanctions on Russian crude and fuel supplies have disrupted trade flows to refiners and end-users and rising worries that central bank efforts to tame surging inflation may trigger a recession that would cut future fuel demand.
Crude oil prices fell over 5 per cent last week.
Despite that plunge in oil markets in recent times, news agencies reported last week that some banks were already asking 80 rupees for a dollar for currency exchange, the State Bank of India.
The news flow in recent months has read that the rupee hits a new all-time low almost every other day, and that trend is likely to continue, traders said.