Maharashtra Roadways Bus Accident: 15 people were rescued after the Maharashtra government bus plunged into the Narmada river in Madhya Pradesh.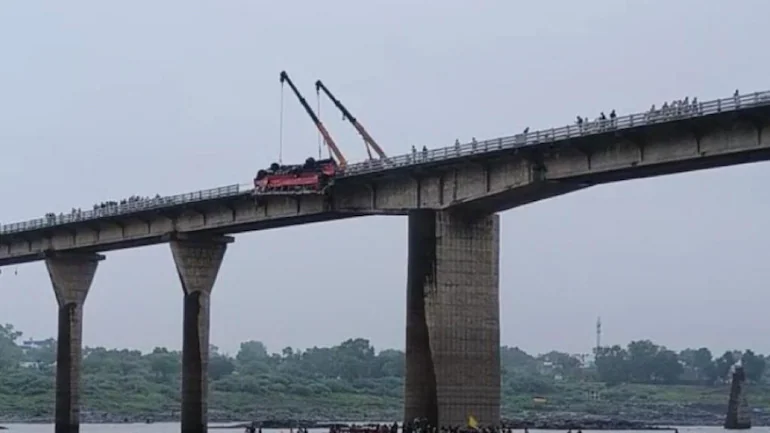 Dhar, Madhya Pradesh: Thirteen people have died after a Maharashtra government bus plunged into river Narmada in Madhya Pradesh today. 13 people have been rescued.
The bus, which was headed to Pune from Indore, skidded off a slippery road and fell into the river after breaking the railing off a bridge in Khalghat area of Madhya Pradesh's Dhar district on the Agra-Mumbai Highway.
The bus departed from Indore city around 7.30 am and was going to Amalner, officials said.
"The district administration team is present at the accident site. The bus has been removed. I am in constant touch with Khargone, Dhar district administration. Instructions have been given to make arrangements for proper treatment of the injured," Madhya Pradesh Chief Minister Shivraj Singh Chouhan said in a tweet, expressing grief over the loss of lives in the accident.
As rescue operations continue, around 40 passengers could have been on board the bus. The National Disaster Response Force (NDRF) has been rushed to the spot, officials informed.
The bus, belonging to the Maharashtra State Road Transport Corporation (MSRTC), has been retrieved amid heavy rainfall in the area, officials informed.
Madhya Pradesh Chief Minister Shivraj Singh Chouhan talked to his Maharashtra counterpart Eknath Shinde over the phone and discussed the rescue and search operations.
Prime Minister Narendra Modi expressed condolences after the accident.
"The bus tragedy in Dhar, Madhya Pradesh is saddening. My thoughts are with those who have lost their loved ones. Rescue work is underway and local authorities are providing all possible assistance to those affected," the Prime Minister's Office tweeted quoting PM Modi.
Although the reason for the accident is not yet known, Madhya Pradesh Home Minister Narottam Mishra said brake or steering failure may have resulted in the accident.