Punjab CM Bhagwant Mann will be getting married to Dr Gurpreet Kaur in Chandigarh today.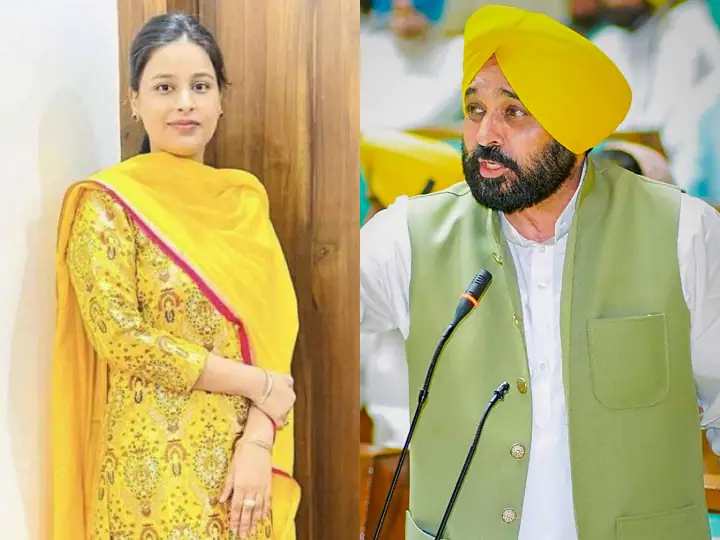 New Delhi: The Punjab Chief Minister Bhagwant Mann is set to tie the knot for the second time todaỵ Mann will get married to Dr Gurpreer Kaur at his official residence in Chandigarh today afternoon. According to PTI, the wedding ceremony will be a private event with a limited number of guests.
48-year-old Mann was separated from his first wife in 2015. He has two children from his first marriage. Mann will tie the nuptial knot for the second time in the presence of his mother, sister, and close relatives.
Bhagwant Mann's Wedding venue, time and guest list
According to ABP News sources, Bhagwant Mann's wedding rituals will take place between 1-2 pm at the Chief Minister's residence.
Apart from his family members, a few guests will attend the wedding. Delhi Chief Minister and AAP national convener Arvind Kejriwal will be in attendance with his family to shower blessings on the married couple.  Kejriwal will leave for Chandigarh at 9:15 AM today. AAP senior leader and Rajya Sabha MP Raghav Chadha has already reached Chandigarh for the event. AAP leader Sanjay Singh along with his family will also be present at the wedding ceremony today.
Who is Bhagwant Mann's bride Dr Gurpreet Kaur? 
Dr Gurpreet Kaur did her MBBS at a private university in Haryana four years ago. According to the PTI report, her neighbours in Pehowa said they came to know through the media on Wednesday that Dr Gurpreet was getting married to the Punjab chief minister. A neighbour said that "we know the bride by the name of Gopi. It was only in the morning that we came to know she was getting married to the Punjab CM".
She had enrolled for MBBS in 2013 and completed that in 2018, said a neighbour in Pehowa. Vaneeta Behl, who also lives in her neighbourhood in Pehowa, told PTI that Dr Gurpreet was a kind-hearted, caring, and very intelligent young woman. Many young girls in the neighbourhood said they were very happy that "Gopi Didi" was getting married and that too to a chief minister. Some of them claimed that Gurpreet was the youngest among three sisters. PTI sources said that his marriage is an arranged one. The marriage will be solemnised as per Sikh rituals in Chandigarh today.