Former Jharkhand governor Droupadi Murmu is the National Democratic Alliance candidate for the Presidential elections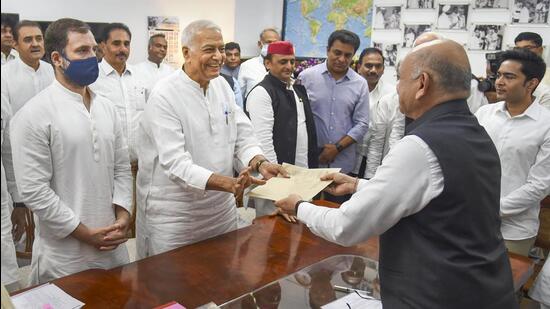 Veteran politician Yashwant Sinha, accompanied by senior leaders including Congress' Rahul Gandhi, Nationalist Congress Party chief Sharad Pawar, J&K National Conference chief Farooq Abdullah, Samajwadi Party chief Akhilesh Yadav and Trinamool Congress leader Sougata Roy, filed his nomination as the Opposition's presidential candidate at the Parliament House on Monday.
"It is not a fight between two individuals, but a fight of ideology. It's 'communalism vs secularism'. I think Yashwant Sinha is the best candidate. The Congress, DMK, RJD, NCP and others are supporting [his candidature]. It is a rainbow-coloured coalition of the best values of the country," Roy said.
The K Chandrashekhar Rao-led Telangana Rashtra Samithi (TRS) also extended its support to Sinha as a last-minute boost. The party had expressed its reservation earlier over sharing the stage with rival Congress.
The Presidential polls will be held on July 18. Former Jharkhand governor Droupadi Murmu is the NDA candidate for the Presidential elections.
Congress leader Jairam Ramesh on June 21 announced that Sinha was unanimously selected as the Opposition candidate for the presidential elections.
"I am overwhelmed with feelings of gratitude towards you and leaders of all the Opposition parties for choosing me unanimously as your common candidate to contest the Presidential election, to be held on July 18, 2022. I thank you for the trust and confidence they have reposed in me. I assure you – and the people of India – that, if elected, I shall conscientiously uphold, without fear of favour, the basic values and guiding ideals of the Indian Constitution," he said in a letter.