Former 'America's Got Talent' Contestant Jane 'Nightbirde' Marczewski Dead at 31 After Cancer Battle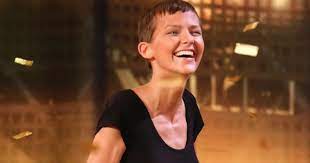 America's Got Talent frequently has contestants who capture viewer attention with their personal stories, and that was especially true for singer Jane Marczewski, who went by Nightbirde. Unfortunately, the phenomenal talent lost her battle with cancer, and has now died at the age of 31.
According to TMZ, Nightbirde died on Sunday after months of cancer treatments to fight the disease, which had spread to her spine, lungs, and liver. Nightbirde had originally been diagnosed with breast cancer in 2017, and while she survived after treatments, it later returned after metastasizing, meaning that it had then spread to other parts of her body. Just a couple of years later, she had been given only a 2% chance of survival by her doctors, with them saying her life expectancy was only three to six months. She was cancer-free again in 2020, which was celebratory, but only for a short time, as it returned yet again in 2021.
Fans will likely remember that Nightbirde wowed the crowd and judges at her AGT Season 16 audition, quickly earning Simon Cowell's golden buzzer for her performance of her original song, "It's Okay." She also got a standing ovation, and was quickly presumed to be one of the contestants to beat in the finale, but by early August of 2021, she had to withdraw from the competition because of her worsening health.