External Affairs Minister (EAM) S Jaishankar said that the India-Russia meeting today will address the emergence of multipolarity and rebalancing, adding "We look at the consequence of over-centralized globalisation. Long-standing challenges of terrorism, violent extremism remain among newer challenges."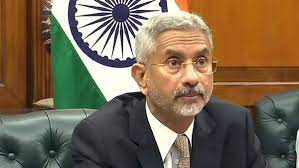 New Delhi: External Affairs Minister (EAM) S Jaishankar said the situation in Afghanistan has wider repercussions for the Central Asian region during the 2+2 Ministerial Dialogue held at the Sushma Swaraj Bhawan here on Monday (December 6)
The EAM said that both India and Russia have a common interest in ASEAN centrality, adding "India-Russia meeting today will address the emergence of multipolarity and rebalancing. We look at the consequence of over-centralized globalisation. Long-standing challenges of terrorism, violent extremism remain among newer challenges."
Jaishankar said, "The situation in Afghanistan has wider repercussions including for Central Asia," adding that the India-Russia meeting today will address the emergence of multipolarity and rebalancing. "We look at the consequence of over-centralized globalisation. Long-standing challenges of terrorism, violent extremism remain among newer challenges," he is quoted by ANI as saying.
During the discussion, the EAM reportedly said that India and Russia are working to ensure peace, progress and prosperity for the people of both countries, adding "We are meeting at a critical juncture in the global geopolitical environment which is in great flux, especially in the aftermath of the COVID-19 pandemic." 
"As close friends and strategic partners, India and Russia have been working to safeguard our common interests and to ensure peace, progress and prosperity for our people," he added.
The EAM also stressed that the strong and steady ties between India and Russia and said that "Our ties have been close and time-tested, in a world that has changed so much, they have been exceptionally steady"."We"ve have an active, dialogue at political levels and also a strong defence partnership over many years," Jaishankar added.
The EAM also expressed that the meeting has provided India and Russia with a suitable platform to discuss political-military issues of mutual interest, adding "Our meeting gives us a suitable platform to discuss political-military issues of mutual interest that are interrelated and cross-cutting."